Bunting and balloons welcomed guests to the P.i.C launch party at St. Peter's Church in De Beauvoir. A simple sign saying 'P.i.C this way' leading to the entrance – a subtle hint of their motto of doing fashion 'the right way'!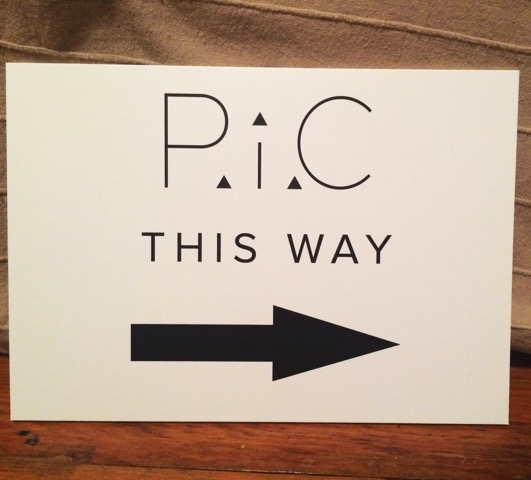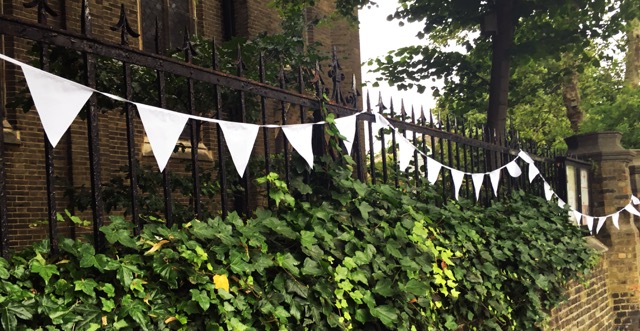 'A church?' I hear you say. Not the most obvious choice for a party, but this is no ordinary church! Set beneath the traditional Gothic architecture of the main building is an unexpectedly modern hideaway! Light bulbs hang from the ceilings – oh so edgy – while the exposed brick walls contrast against the bright white walls. Contemporary, clean, stylish – perfect for P.i.C's signature look.
Sarah, one half of P.i.C shows a guest the Camden Dress, featured on a mannequin; the multifunctional dress that can even be worn as a jacket! (See our LCM post!) Guests were eager to see and try on the 8 piece capsule collection for the first time!!!
Morna (left) and Sarah (right) looking totally sassy in the De Beauvoir Cami in black, showing two different ways of wearing it – you work it girls!!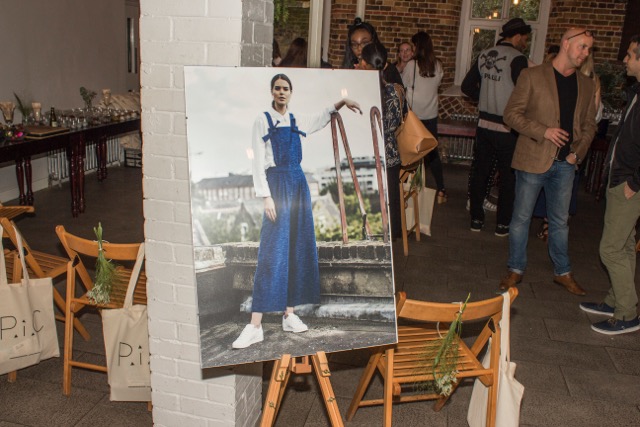 Gypsophila complemented the P.i.C goodie bags nicely and added a little bit of green to remind everyone that P.i.C is not just a contemporary fashion brand but an eco-friendly, organic and sustainable investment.
"It's time to stop overbuying and instead choose stuff you love, and invest in it. We believe there is a better way"
Keeping the guests merry throughout the night was Joe from Reyka Vodka handing out Vodka Tonics with pink grapefruit – delish! Rhoda and Sarah (above) clearly very happy about this! Rhoda (left) wears the Bethnal Pinny while Sarah wears the Hackney Jumpsuit. Both in this gorgeous blue fleck ikat handwoven cotton with detachable bibs, transforming them into either a pencil skirt or wide leg cropped trousers!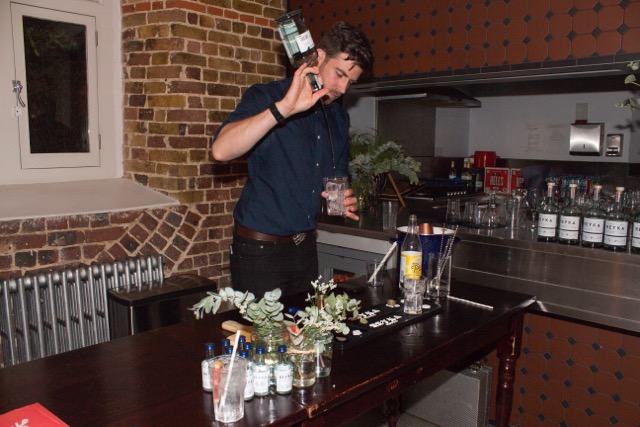 As well as Reyka, there was Camden Hells lager from Camden Town Brewery and Cola, Lemonade and Ginger Ale from Karma Cola! So if you didn't have a drink in your hand there was no excuse!
Pronto provided the yummy snack pots (which didn't last long)! From chicken and veg to chocolate and raspberry brownies and coconut protein balls!!! Doesn't get much better than that! In fact just looking at these P.i.Cs are making us hungry…
Sarah Ann, our lovely model, posed for pictures in the De Beauvoir Cami. Styled with skinny jeans and natural waves, she looked effortlessly gorgeous! I mean, we wouldn't expect anything less – look at her!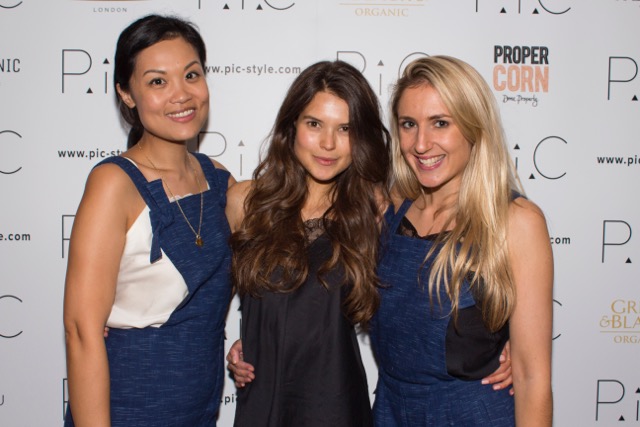 Our goodie bags certainly went down a treat and we've loved seeing all your posts! Huge thanks to all our sponsors; Newby Teas, Green & Blacks, Reyka, Skin & Tonic, Laser Lab Projects and Propercorn.
After a successful night, we are super excited to continue our ethical journey with all our new P.i.Cs – thank you all for coming and for your support! Until next time 😉