If you haven't figured it out yet, P.i.C stands for exactly that…Partners in Crime! Joining us to rebel and do it the right way are 11 awesome and inspiring brands, all sharing our ambition to promote conscious contemporary fashion. Plus they are perfectly suited to wear with the P.i.C capsule wardrobe…even better!!! Not only do we have some beautiful garments but accessories too!! So, without further ado, we would like to introduce…
COSSAC
Cossac's mission is to 'produce affordable quality garments that are sustainable in both manufacture and design, without sacrificing on style.' Like us, they promote the idea of the capsule wardrobe with a casual and simplistic style. Founder Agatka Kozak wanted to create an alternative to high street fashion and hopes her collection will soon be 100% eco-friendly. Pictured above is the Youniverse Tee available now at pic-style.com
LANIUS
Based in Cologne, Lanius aims to create fashion that 'feels good – on the skin and for the conscience'. And it sure does, the Luxury Silk Shirt (pictured above) is made from 100% Silk and feels sooo soft on the skin. It also comes in navy blue too and looks great with skinny jeans or tucked into a pair of the Crepe Joggers. They combine organic materials with fair working conditions and exceptional patterns and forms. We love their tagline: LOVE FASHION / THINK ORGANIC / BE RESPONSIBLE.
MONKEE GENES
Not only do we love the name but we love their ethos AND their jeans!!! Monkee Genes was born in 2006 out of the frustration of the denim market and disposable high street stores. Using innovative fits and organic fabrics, they are changing the jeans industry and helping the planet too – watch this space! 'Looking after your body and soul; this is the natural evolution of jeanswear, this is Monkee Genes!' Pictured are the Zipper Jeans.
SUITE 13
Made with care and sensitivity in Barcelona, Suite 13 uses natural organic fabrics to produce a collection which is eco-friendly but also very stylish and practical. Our fave is the highly sophisticated Pola Coat (pictured above) which we've paired with a rollneck, Dalston Peg and trainers. The sun might be disappearing from the ever-changing British weather but this is why we love winter!! Time to embrace the thick coats, hot chocolate and cosy nights in by the fire.
MUD JEANS
After winning awards like the Sustainability Leadership Award, we couldn't wait to have MUD Jeans on board! Based in The Netherlands, the brand promotes the use of recycled fabrics and encourages their customer to do the same. We totally agree – how many pairs of old jeans have you kept in your wardrobe or just thrown in the bin? Using the principles of the circular economy, 'MUD Jeans allows customers to shop guilt free and do good for the environment, while looking fashionable and modern.' Pictured above are the Skinny Hazen jeans in Pure Blue with the Dennik Waffleknit Jumper.
Then we have our accessories…
AURELIE
Aurélie Chadiane is an accessory designer from France, with a fabulous collection of natural hand-made products including the shoe tongue! What on earth is a shoe tongue I hear you say! Well, this innovative new product will 'pimp up' your shoes instantly! The 'Les Classiques' style are pictured here with a standard lace-up trainer and they fit under any kind of laces. They are made from vegetable tanned leather and come in all different styles and colours, so there's one for everyone! Like us, they encourage local manufacturing and are committed to reducing the amount of waste in their production process.
MARAVILLAS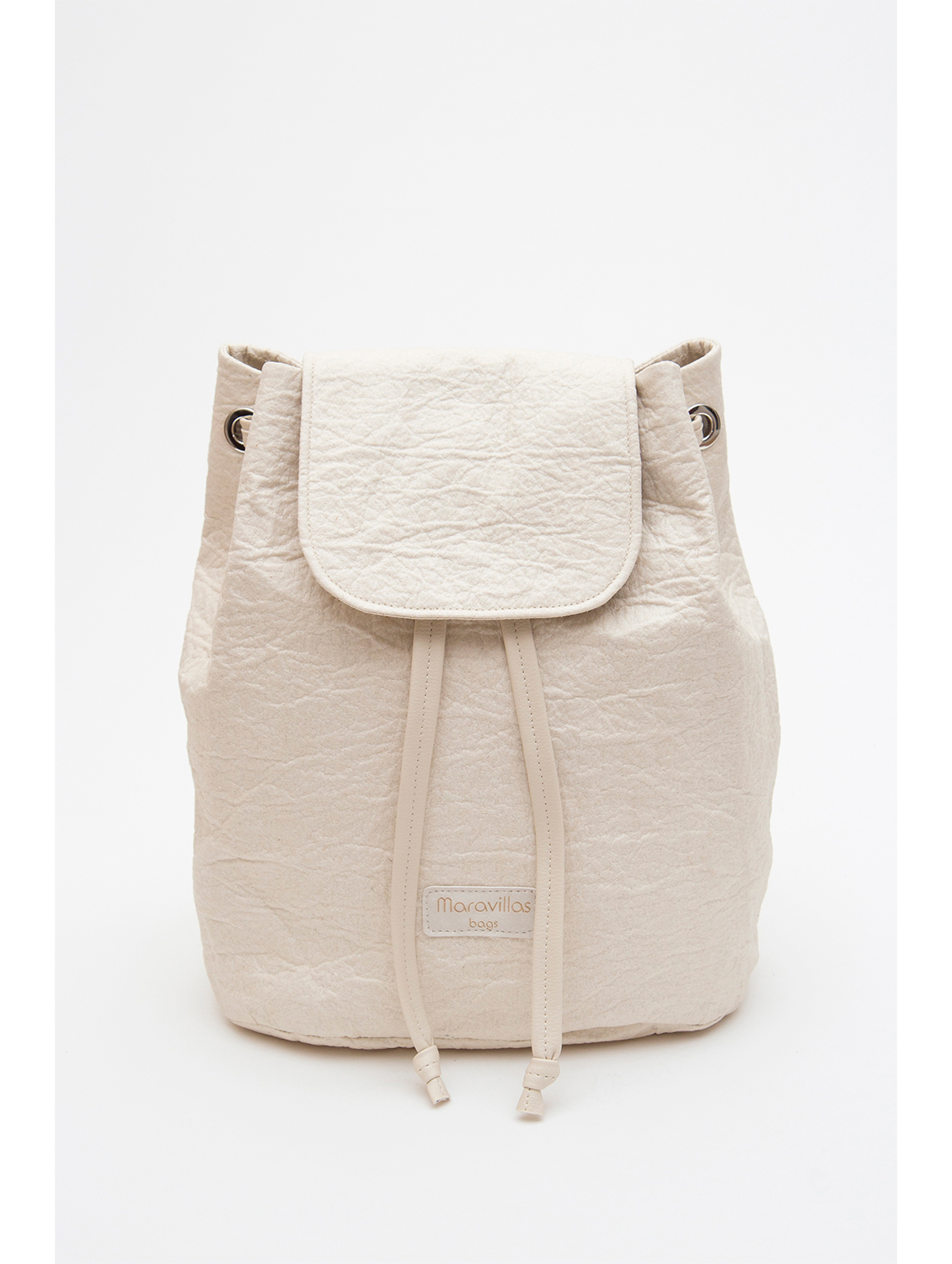 Based in the heart of Palma de Mallorca, Maravillas are real experts in leather! Their traditional craftsmanship is combined with ultra modern designs to produce a super trendy but also high quality collection of bags. Every style is available in vegetable tanned eco-leather and a new material called Pinatex (pictured above top Mia Rucksack). This is a sustainable leather alternative made from the fibre in pineapple leaves, ideal for vegans and animal lovers! Left is the Lola Bucket Bag which comes in Brown or Pine Green and is made from 100% vegetable tanned leather with 100% organic cotton lining. Could this be the future of bags? Stay tuned!
MATT & NAT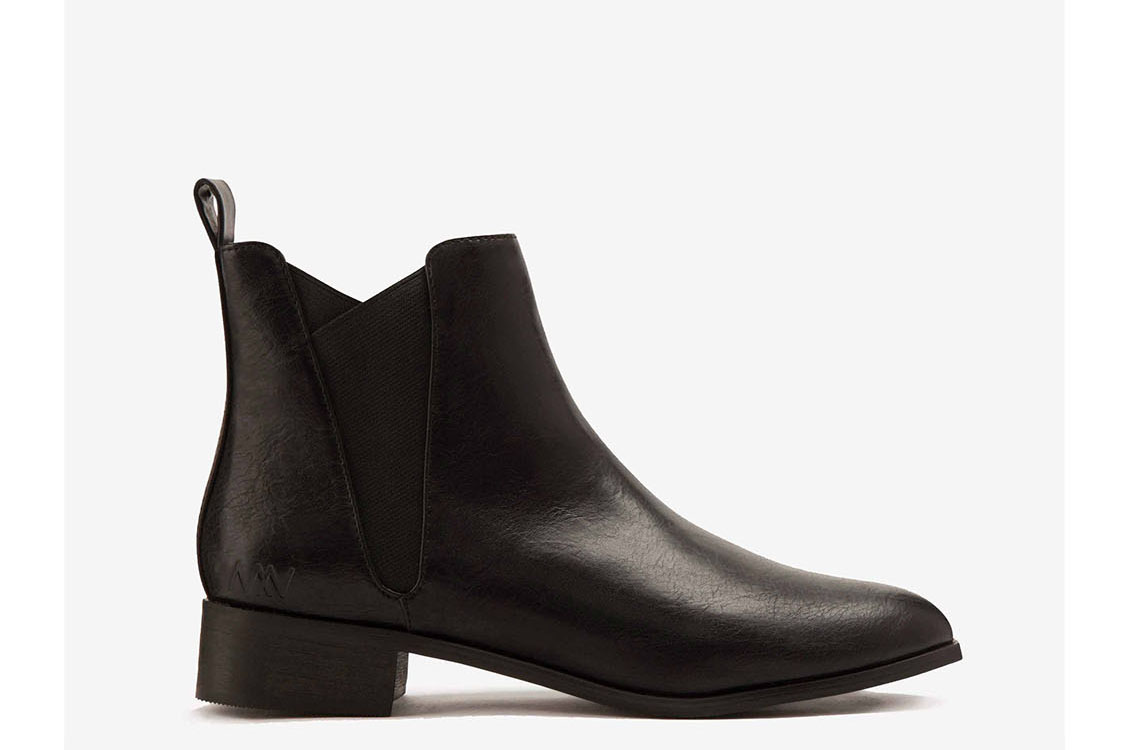 Matt & Nat, which stands for 'material' and 'nature', are inspired by the textures and hues of nature and continue to explore new ways to remain sustainable and eco-friendly. Their motto 'live beautifully' shows their appreciation for humanity, creativity and positivity. They experiment with recycled materials such as nylons, cardboard, rubber and cork. They've even made linings from recycled plastic bottles and introduced recycled bicycle tires to their collections…we're impressed! With beautiful designs like the Brave Backpack (pictured above top) and a selection of shoes and boots like the Joliette Boots (pictured above bottom), we have no doubt they'll be a best seller!
MIRABELLE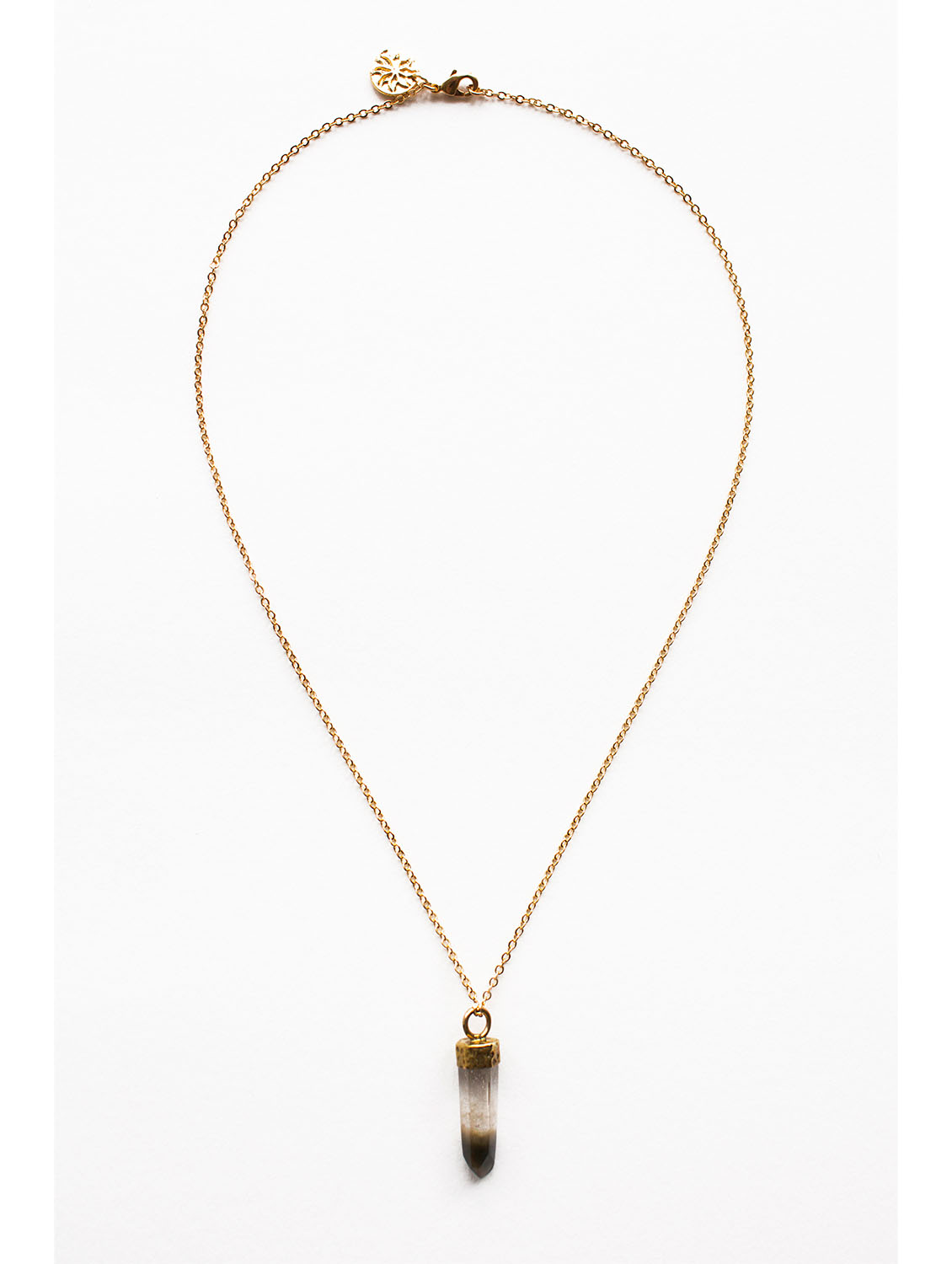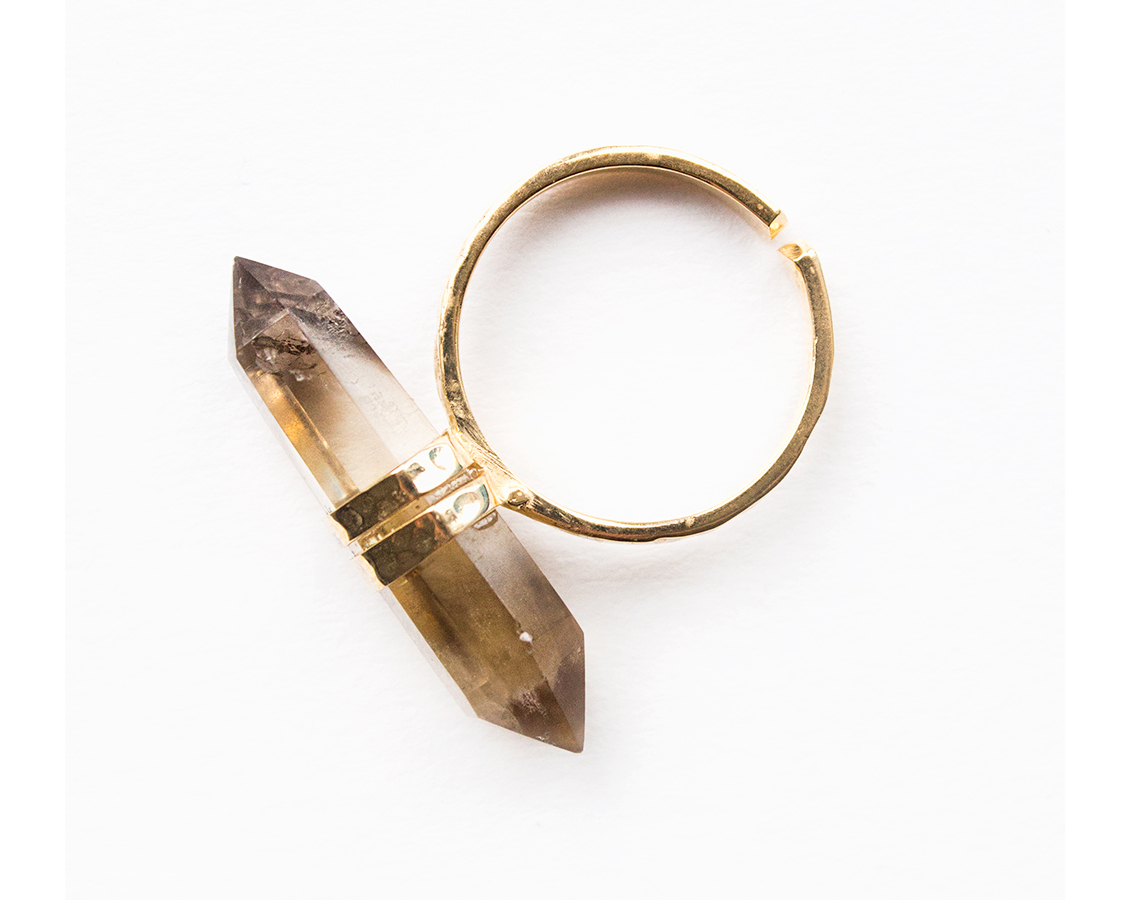 Top: Earthtooth Necklace, Bottom: Smokey Quartz Ring.
Every Mirabelle jewellery design is totally unique, with hand selected crystals by us! Founder Veronique Henry has a passion for South East Asia and this can be seen in the intricacy and vibrant colour combinations of her designs, fusing ethnic and contemporary aesthetics. Her collections are 'imbued with symbolism and meaning, from crystal stones to ancient talismans.' Each piece is handmade in Britain and produced by fair trade suppliers. What's not to love!!
MVDT
MVDT was created by Marlous Van Der Toorn and is a handmade jewellery collection made from brass and sterling silver. 'People define the collection as beautiful and gentle with elegant shapes and refined lines.' Her selection of necklaces, rings, earrings and bracelets have a delicate and sophisticated style – perfect to wear with our P.i.C capsule collection. Pictured above is the Sun Bracklace which can be worn as either a necklace or bracelet – multifunctional and timeless, just like P.i.C!
WERNER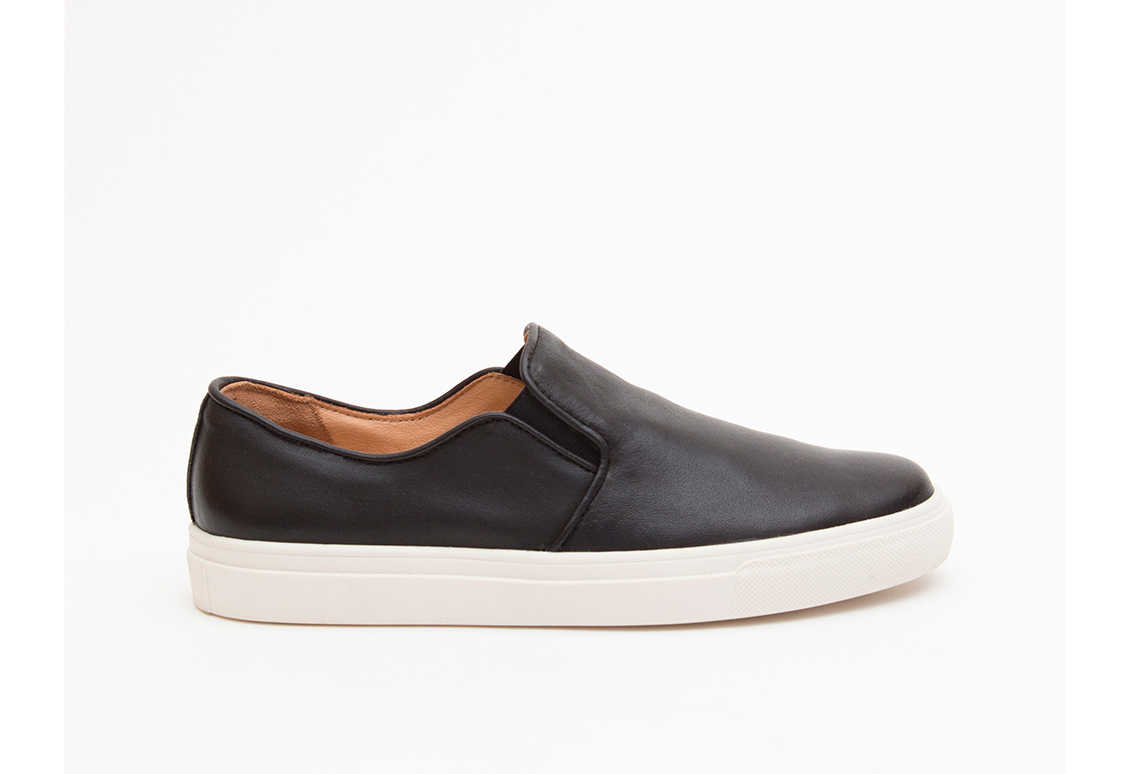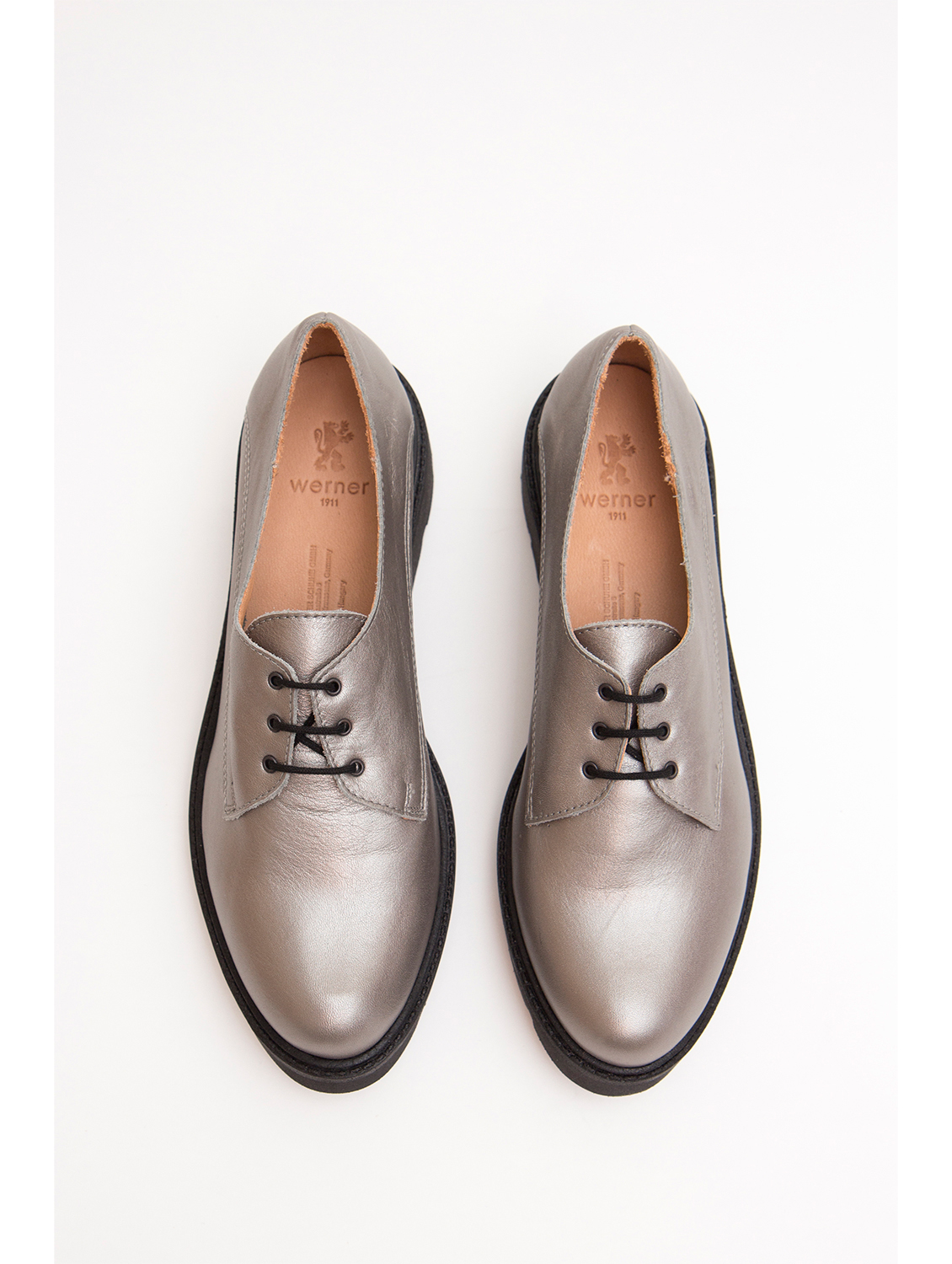 And last but not least, we have Werner shoes. Manufactured in Europe with raw materials from Germany, they only use high quality sustainable fabrics that are natural, chrome free and vegetable tanned wherever possible. 'Werner shoes are beautiful and good. No ifs and buts.' From slip ons to metallic brogues, any of the styles available on pic-style.com would look great. Pictured top is the 731 Pull On Pump, bottom is the 719 Lace Up Shoe in Metallic Silver.
#partnersincrime
We'd like to thank all our partners for joining us in slow fashion and for sharing our desire for sustainability.
As Partners In Crime, we WILL change the future of fashion. Go check them out at pic-style.com now!